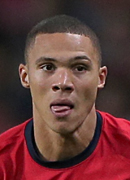 Kieran Gibbs
Squad No: 46
Position: Defender
Age: 23
Birth Date: Sep 26, 1989
Birth Place: Lambeth
Height: 1.78m
Weight: 70 kg
2012/13 Barclays Premier League
| GAMES | GOALS | ASSISTS | SHOTS |
| --- | --- | --- | --- |
| 27 | 0 | 3 | 9 |
KIERAN GIBBS
Gibbs was propelled into the national consciousness when, at the age of 20 and with only 11 Premier League appearances behind him, he was named by Fabio Capello in a new-look England squad to face Hungary. Gibbs has followed Ashley Cole and Gael Clichy n the recent tradition of promising left backs emerging from the Arsenal ranks.
But Gibbs, who joined the Gunners from Wimbledon when their academy disbanded and the club became MK Dons, actually first appeared as a winger in the Emirates Cup of 2007 when he produced an admirably mature performance against Inter Milan at the age of 17. Two League Cup appearances and a loan spell with Norwich followed, before his breakthrough season came in 2008-09 as he made 21 appearances in all competitions, taking advantage of Clichy's injury problems.
After attracting praise for some impressive performances at the back, Gibbs' mental strength was tested to the full in May 2009 as his slip allowed Manchester United to score an early goal in the second leg of a Champions League semi-final tie at the Emirates, fatally undermining Arsenal's hopes of progress.
He returned stronger the following season when injury again laid Clichy low and but for a serious foot injury sustained in a Champions League tie against Standard Liege in November 2009 that ruled him out for a prolonged spell, Gibbs may well have travelled to the 2010 World Cup. His place should be ensured in 2014, however, if he continues on the same course; Clichy's departure to Manchester City in the summer of 2011 opened up the door to for him to be a regular starter at Emorates Stadium.
He has, though, continued to struggle with injury problems. Gibbs made just 15 Premier League starts during the 2011-12 season.
Strengths: Quick, bright and with a tendency to attack that stems from his midfield origins, Gibbs is the archetype of the modern full back and his positioning sense and defensive nous are improving all the time.
Weaknesses: Gibbs still lacks experience at the top level and is not yet a master of the defensive arts. His lack of maturity in this regard can be exploited. He is prone to injury.
Career high: Being named in Fabio Capello's first England squad following the 2010 World Cup finals.
Career low: Slipping on the Emirates turf and allowing Park Ji-Sung to score for Manchester United in a Champions League semi-final tie in 2009.
Style: Dynamic, energetic, adventurous, a promising full back.
Quotes: ""For me he will be the next England left back. He is already a top-class player and has great potential. I know he is great player and he is a great left back. He always gives 100 per cent." Bacaray Sagna praises his young team-mate.
Trivia: Gibbs has a twin brother named Jaydon who represents non-league Guildford City.