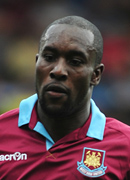 Carlton Cole
Squad No: 12
Position: Forward
Age: 30
Birth Date: Nov 12, 1983
Birth Place: Surrey
Height: 6' 3'' (1.91m)
Weight: 170 lbs (77 kg)
2013/14 English Premier League
| GAMES | GOALS | ASSISTS | SHOTS |
| --- | --- | --- | --- |
| 23 | 6 | 0 | 21 |
CARLTON COLE
A vital player for West Ham, Cole's good form earned him a call-up to the England team in February 2009 and he was given another chance to shine after missing out on the 2010 World Cup squad.
A tall, athletic striker, Cole began his career at Chelsea and rose through the youth ranks to break into the first-team in 2001. He was unable to make his mark, so went on loan to Wolves, but when he returned the club had changed beyond repair with Roman Abramovich's initial spending spree.
Moving on loan again to Charlton and Aston Villa, despite him signing a six-year deal in 2003, his Chelsea career ended and West Ham pounced to sign him in July 2006. With that, his career took off and regular football showed his quality as he netted 10 goals in back-to-back seasons while also receiving high praise for his work-rate and attitude.
Strengths: Strong in possession, he holds the ball up well and provides an attacking threat in the air, as well as with his pace. His work-rate is colossal and he is also capable of the spectacular.
Weaknesses: Not playing at the highest level has hindered his development in front of goal, while he sometimes lacks focus.
Career high: His form at the start of the 2008-09 season earned him a new five-year contract at West Ham, as well as his first England start against Spain.
Career low: His last season at Chelsea, where he only made 12 league and cup appearances for the club in 2005-06.
Style: Strong, athletic, hard-working, a real team player.
Quotes: "There's a lot of competition in front of him to be England's top striker for the World Cup but I'm certain Capello can consider him as a serious option. Carlton knows this is probably the most important season of his career." Gianfranco Zola, August 2009.
Trivia: Cole has been sponsoring a 12-year-old piano prodigy, Nuron Mukumiy, so that he is able to participate in a competition in Germany.